At Social Jack, we say that proper Influencer Marketing is all about "who you know," but this can also be said about taking a prospect and converting them into a client. When you use your network properly, you'll find yourself making clients out of your current LinkedIn connections. In this Flash Class, we will discuss the five ways you can monetize your LinkedIn network and add more clients to your list.
Understanding Social Selling
The first step of this process is gaining a basic understanding of the term "social selling," as this has always been a major part of the sales process.  In our Flash Class, we define it as developing your relationships to make a sale. In this age, what makes this phrase more "social" is that your social media channels are a MASSIVE part of these efforts. These techniques on your channels can range anywhere from sharing relevant content to engagement with customers to social listening. In doing this, you are able to let your prospects know that you exist and are prepared to offer a service that can help them.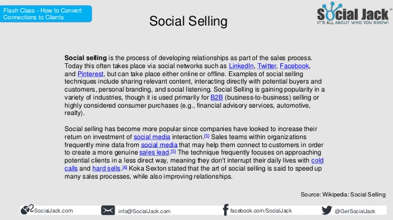 Influencer Marketing Pro Tip: If you really want to create a genuine sales lead, social media is your friend. A lot of companies will mine data from their channels to learn more about who is coming to their page and what they are like. This allows you to better find people who may have more interest in your product– something that is much more effective than cold calling and hard sells. If you are looking to help your company find leads, mention this tip to them!
Noting the trends with social sales
In order to better understand why social selling is important, you need to understand the trends surrounding it.  Did you know that 75% of B2B buyers utilize social media in order to make purchasing decisions? Buyers use social networks when they are in the final stage of making a purchase. This is due to the fact that many sellers will lay out as many details as they can on their social channels, so people can see what they are getting into. In doing this, they gain more comfort and confidence in their purchase. Social media is all about transparency and trust building. Make sure it is a part of your plan for sales!
The power of your unseen connections
Making those connections on LinkedIn is an essential part of selling. After all, the more people directly connected to you, the better chances you have of making a sale, right? Well, yes and no. While having more connections on LinkedIn CAN help you with finding sales, you do not need 500+ connections to become a social selling master. In fact, your LinkedIn network is growing in a way you may not realize. Let's say you have close to 400 connections. While that is certainly an impressive feat for LinkedIn, you have WAY more than that. Each connection can refer you to their own connections, which increases your chances of getting a sale even more! 400 personal connections are a good start, but an actual network of 50,000 is even more helpful!
Stop the clicking roulette!
That's right, when you are trying to be productive, other marketers will try to utilize disruptive marketing on you. When that happens, other people are trying to pull you in to get you to buy when you need to focus on generating leads. The other issue is that this can also mean you are just clicking that connect button and hoping that something good comes out of doing that. At Social Jack, we have seen this happen countless times to the professionals we coach, so we discourage that. Don't just endlessly click, make your time online MATTER!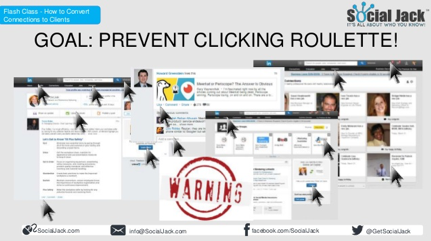 Influencer Marketing Pro Tip: In our experience, we see that the average professional can generate at least two quality sales leads for just twenty minutes of work on a daily basis. Your time online should be meaningful, and it can as simple as spending twenty minutes a day on LinkedIn. If you can get at least two quality connections, you can spend time developing a relationship and booking an appointment with them for a sale. Track this in an Excel sheet so you can see how many leads you get per day. This is a bit of a time audit, so you can hold yourself accountable if you see drops in appointments and find the best way to correct it.
Bonus Tip: We also offer an ROI (Return on Investment) Calculator that can help you track your sales as well.  This will help you see how many sales you are making and if you are hitting your weekly, monthly and yearly goals. Remember, you want to make results quantifiable—the easiest way to do that is by using this nifty calculator!
Your Profiles are Your Professional Brand
We talk about this in many of our Flash Classes; your profile showcases your brand! While it is quite clear that your profiles show your professional brand, many people forget to make sure that they are completely filled out—meaning that you have your most recent position listed, have a (recent!) profile picture and update your bio, because you are so much more than your title! When people visit your page, it should start a conversation with people and answer how you can help and why you are the expert in your profession.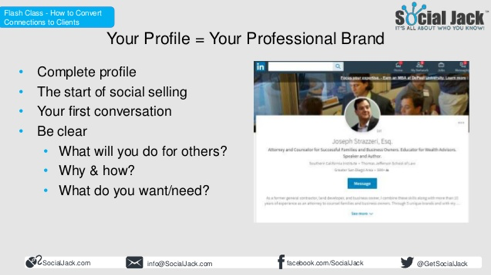 Influencer Marketing Pro Tip: Your title on a LinkedIn page is the first thing that people see, which means it MUST be there! If it does not convey why you are an expert in whatever you are selling, they will leave. Keep it relevant!
Power Move – Home Page Scan
We already said it, but a person's social media home page can say a lot about them! This can show who they are, what they do, why they are an expert, the list goes on really! What you want to do is connect to others who have similar interests in their fields. Use this to your advantage!  This can help you find people who might be interested in your product and allow you to enter into relevant conversations with them!
Power Move 2 – Network Diving
It's time for a power move that you can use with those unseen connections we talked about earlier. A network dive is when you go into someone's LinkedIn network (AKA their connections) and find referrals that way. This is another simple but extremely effective way to find prospects to convert into your clients.
Influencer Marketing Pro Tip: When you check someone's connections, you can filter the results!  If you want to find people in specific fields or even specific locations, this will be much easier than combing through ALL of those connections just to find the niche you are looking for.
Power Move 3 – Conversation
Now, conversation is extremely important in social media. After all, liking or commenting on posts can help you engage your audience in a more personal way. However, what would you think about someone sharing a post that you created? Now, any engagement is good for your channels but getting a share is GREAT!  If someone is sharing your content, they acknowledge you said something meaningful that their connections should know. This goes back to the power of your unseen connections; one connection may share a post, but it is getting viewed by hundreds of their connections who may also share the post with their connections. It's simple math, one share = hundreds of views. That is a formula for success!
Bonus Power Move – S.C.A.G.
To explain what this LinkedIn move is, it essentially means scan, connect, ask and get. Remember when we talked about meaningful connections on LinkedIn? Scanning is when you find someone in your field that would be interested in what you have to offer. You then "connect" to that person to get a conversation going. In that conversation, you then ask them by letting them know why what you offer is of value. By doing all three of those, it's pretty obvious what will happen in the "get" stage!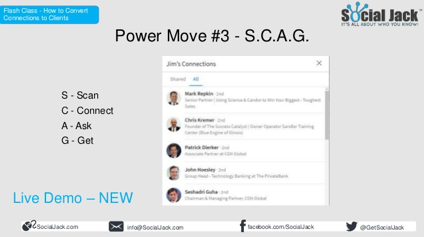 In Summary
Remember, social media is a big part of getting clients in this day and age. You need to make use of your connections to generate endless leads. Remember that people are more influenced by social media when making purchases. By using this knowledge and your unseen connections, you will find yourself with plentiful opportunities to find a lead and make a sale.  If you need further resources, check out our Free Resource Center at Social Jack. You can access our Free Resource Center by signing up for a Basic Social Jack Account plus browse the worksheets and classes currently available.
We cannot wait to see you online!
We hope to see you in one of our next Flash Classes! Check out the full list at www.socialjackflash.com