Last week's edition of the Influence Factory brings you the latest industry news and lets you hear from Industry Experts! Last week's Influencer Guest, Michael Angelo Caruso, talks about how he has built his Influence through the use of Events.
When speaking at events, there are certain connections that you make at them. As speakers, we tend to just come in to an event and then leave. There are thousands of opportunities to network with other attendees when you present. You want to find ways to make your material connect to them. We will go through the key points Michael discussed during the webcast here so you can present like an Event Influencing pro!
The Power of Cognitive Speaking
The way we affect our audience during a presentation can be boiled down to a simple science. Cognitive speaking sounds like a new scientific term, but it has always been in the art of presenting. In our webcast, Michael spoke about how Brian Tracey utilized this psychology to understand how leaders and presenters influence others. Cognitive speaking usually involves having a bias. This can be an optimism, pessimism or even confirmation bias. When leaders talk, they can use this to sway an opinion and even sell someone on an idea. You also want to use what you say to show people that you are passionate about your area of knowledge, something that further enhances engagement. Cognitive speaking requires a human approach so make sure you do it!
"When you can show us what you care about, it makes you seem more human."

 – Michael Angelo Caruso
It's All in The Details
One way to gain influence when speaking at events is to pay attention to the details (AKA your audience). This seems like an obvious point, but so many people rarely utilize it to its fullest extent. In these days, we are more invested in ourselves than we are with other people. If you want to see how your audience is reacting to your material, Michael said you "should look up at your audience once in a while." In doing this, you are able to see what they are doing, AND you make your lesson more personalized. This is simple math: Eye contact plus addressing the audience = engagement.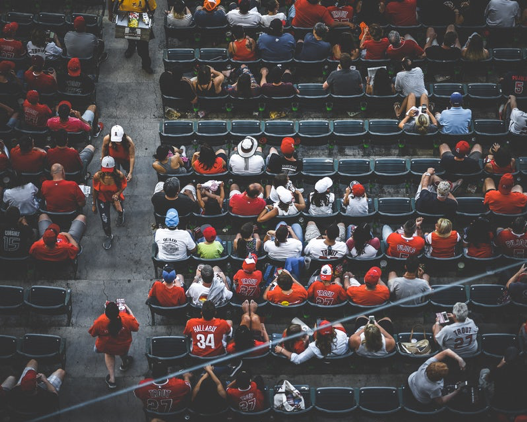 Influencer Marketing Pro Tip: A "ride along" can be helpful when you are doing a presentation. This means that someone watches your presentation and can tell you things that you miss or do not realize that you are doing. We can become too invested in a presentation that we fail to change the way we address things to people. When we are told what we miss, we can be more aware of it so we can adjust the flow of a presentation for our viewers.
Watching your language
There are half a million words in our language and it can be a challenge to find the right words for a response. We may be able to anticipate some things our audience might say but we really need to think on our feet about the words that will create an impactful response. We do this by using word substitution. When you practice, you may find yourself using words that don't give the presentation impact. By subbing out those words, you can find other words that give your speech a boost.
"While complete perfection is not possible, you can get very close to it when crafting a presentation."                    

 – Michael Angelo Caruso
Influencer Marketing Pro Tip: You can make speeches more effective during preparation by having a deep vocabulary. There are websites that often do a "Word of The Day." If you want to deepen your word bank effectively, finding websites that do this can be a HUGE help. Michael recommends Wordsmith.org as a personal favorite.
Build a Good PowerPoint
Unfortunately, PowerPoint has become a bit of a crutch that many people are overusing in presentations. The best presentations will have certain restrictions for PowerPoints. If you are to use one, use it in the middle third of a presentation. The first third should be used to develop a relationship with the audience and the final third should be your "call to action." A presentation should also use oversized text (limiting how many words are in a slide) and no more than one photo. Remember, people will turn their back to the audience if all their points are in the presentation. You want to make sure your audience is engaged and that cannot happen when you have your back to them.
"The fastest way for leaders and salespeople to excel is to master the art of the presentation."                                                                                                                        – Michael Angelo Caruso
Knowing The Colors of Personality
While it's important to dress your best for an event (and try to highlight the colors of your brand in your outfit), you should be MORE aware of the different personalities in the audience. There are four personalities – the thinker, relator, socializer and director. You should get an idea of which of these personality types are in the audience during a presentation.  Once you learn WHO is in the audience, you can then tailor your word choice and presentation to them. This will maximize impact and keep people engaged in what you have to say. You're using color, but just in an unconventional sense.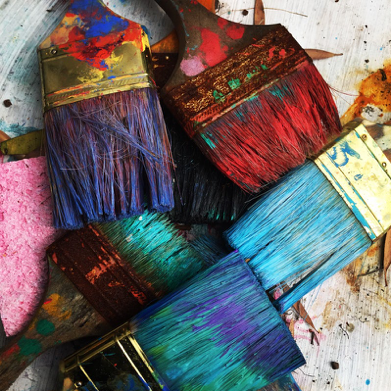 Get Feedback and Stay Relevant
This is the most important part of any presentation. The biggest metric of success is seeing what people say about your presentation. You should be asking people about your presentation to see what they got out of it. By learning this feedback, you know what you need to cut out or even add.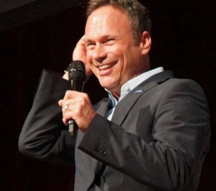 "When you want to find out what people think about your presentation, ask them what they took away from your speech."                             

– Michael Angelo Caruso
On your social media channels, relevance is EXTREMELY important. You want to show your audience that you are up to date on current happenings in the world and your area of expertise. When you post relevant information, it keeps your audience interested in what you have to say.
In Summary
While it seems like a lot to give a successful presentation, these tips are very easy to apply. Remember that using cognitive bias will help you sway your target audience and get them interested in what you have to say.  Once you have done that, you need to be aware of your audience and pay attention to reactions and their personality types. Don't be too reliant on a PowerPoint as you want to keep eye contact with the audience, NOT give them your back during a presentation.
Influence Factory live episodes air Wednesdays at noon central . Register here.
You can also subscribe to previous and upcoming shows on the Social Jack website.
We hope to see you on our next Influence Factory!