In reading recent articles the last couple of weeks, it seems there are mixed reviews on the good and the bad around the purchase of LinkedIn. I have a few thoughts on this:
Microsoft has stated that it has plans to integrate LinkedIn and Social Selling into its existing CRM product, Microsoft Dynamics CRM- which is second to sales. I believe this is great for Microsoft but not so sure how it will impact the rest of us that do not use Microsoft CRM. There are also current LinkedIn tools, like "Sales Navigator," that work well in the sales force. It will be interesting to see how that plays out.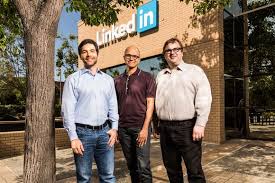 My personal thoughts are that Microsoft is genius at wanting to own the data that LinkedIn has. The business intelligence that LinkedIn has from a social perspective of how people are connected and how people work and communicate together, there is nothing out there like this. Microsoft will be able to obtain social trends, social data, business trends, business data all blended together. I believe this is the main reason why they wanted to do this and also give new life to their new CRM products.

Microsoft has historically not been that successful when it comes to social networking or social media. This to me validates that now they're seeing the value, and it has increased, of social media and social networking. Many people think that this is potentially the death of social media, where these platforms cannot survive on their own, however I believe just the opposite. Microsoft has proven the value of connection, which is what we teach in our Social Jack training programs on coaching individuals the value of their connections based on their own ROI (Return of Investment).

The fact that Microsoft paid $26.2 billion in cash for 433 million users, tells me that they found the cost per user came out to be $60. In our system, we look at it by value of user based on the ROI and outcome of the relationship, which is expediently more. The fact that Microsoft has placed a value on those connections, which have relationships, shows us that there is a value in social networks and connections.
So, connect with someone new today and you never know where it will take you.